For the launch of the new Ford Ka model, an advertising campaign was carried out using augmented reality experiences that allowed users to discover the new attributes of the car from any mobile device.
Ford, the multinational automaker company, launched the new and so expected Ford Ka Freestyle. This arrival implies not only an improvement in design and security, but also, it purses to break into the market and position the brand with cutting-edge technological solutions.
To accompany these developments and spread the news, Ford's GTB agency carried out a different advertising campaign, incorporating augmented reality experiences that facilitates the users to explore the functions and advantages of the vehicle in an innovative way. CamOnApp, a leading company in immersive technologies, was responsible for designing the interactive experiences and Sarmiento, specialists in outdoor advertising media, implemented the posters billboards distributed in the city of Buenos Aires.
Whether they are located on high-exposure public spaces, at bus shelter ads, or at the impressive stand that the brand activated during the summer in Cariló, the automaker stood out for innovating when it comes to present a new car model. Downloading CamOnApp (from Google Play or Apple Store), those who witnessed or toured any activation of the brand could scan and access to this new catalog format.
Currently, augmented reality has become an ally for carmakers seeking to tempt and attract buyers from any point of contact and without necessarily being present at a dealership. In addition, the articulation of digital solutions in real world supports or products, brings the brand closer to a millennial audience eager for new experiences when consuming.
Download CamOnApp from Google Play or App Store and scan the poster below to try the interactive version of the new Ford Ka Freestyle: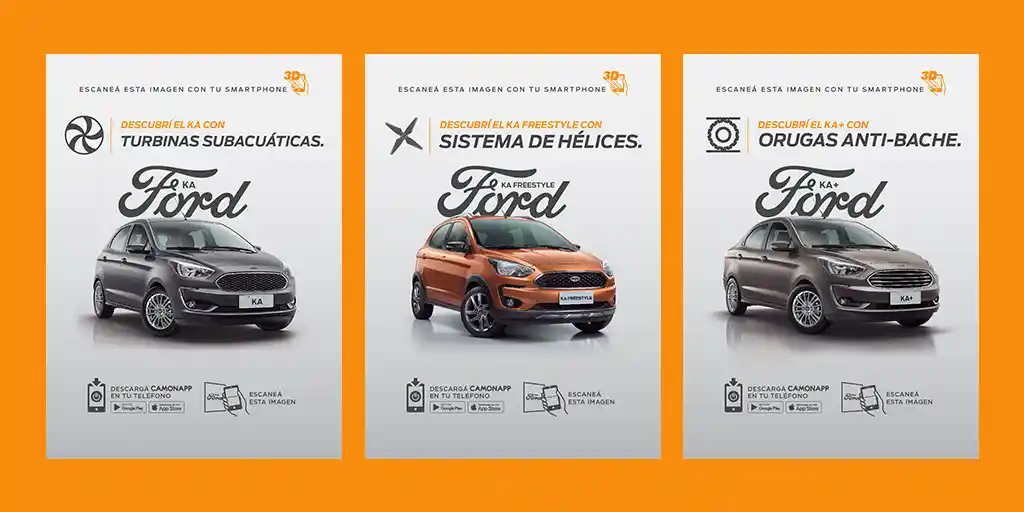 Watch the video from this experience