Christmas is a unique opportunity to connect with your customers and achieve great results. Discover the possibilities that Augmented Reality offers to make a distinctive impact on this special occasion.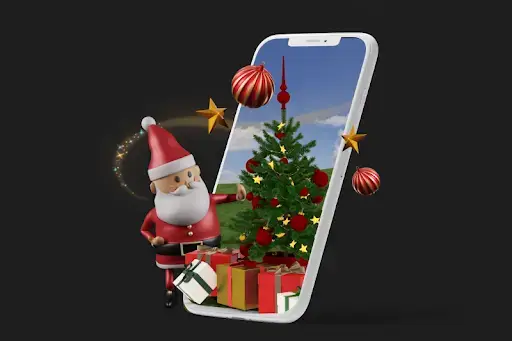 Would you like to carry out a different and truly effective Christmas campaign? Augmented Reality can create magical experiences that surprise your consumers and achieve the objectives you desire. Our first recommendation is not to let Christmas catch you off guard: plan in advance, as time is a fundamental factor when creating a successful Augmented Reality project.
To effectively launch your project, it's necessary to allocate sufficient time for idea development, implementation, and testing. At CamOn, the average working time for the development of an Augmented Reality project is 4 to 6 weeks, although it may vary depending on the complexity of each project.
Another key point is to have a clear objective for the project. For example, would you like to increase sales, build customer loyalty, or raise brand awareness? Having a clear objective will help us outline an effective strategy that fits your specific needs.
Lastly, it's important to note that you don't need to have knowledge of immersive technologies to create an Augmented Reality project. Our team will handle the strategic analysis and content proposal according to the objectives you set.
How to Use Immersive Technologies at Christmas?
We bring you some ideas to inspire you, which you can then refine with our expert team.
Themed Games
Users can engage in various interactions, such as playing a treasure hunt game with elements around them, including gifts and Christmas characters.
Once they've completed the search, they can claim their treasure, such as participating in a contest, unlocking a discount code, or winning an instant prize. This is a great way to drive traffic, encourage purchases, and create a playful brand experience, which can be carried out from anywhere. 
We successfully applied this interaction in the experience we created for over 16 Cencosud Shopping Centers. By finding gifts within 1 minute, users entered a gift card giveaway.
Interactive Characters
Children and adults can project Christmas characters into their physical space, allowing them to interact and perform various actions, such as dancing, greeting, and even delivering special brand messages. 
An example is the experience we created for Unicenter Shopping, where visitors could have interactive Augmented Reality experiences with Christmas characters like elves, bears, and elves.
Christmas Social Media Filters
Social media filters are a popular trend on Instagram, TikTok, and Snapchat. They are fun experiences that encourage sharing among contacts, making them a great brand promotion tool. Users can take photos and record videos in different festive scenes to share with friends and even play thematic games.
Photo Opportunity with Santa 
No longer do you need to visit a shopping mall or event and wait in line to take a photo with Santa or a Christmas character. Thanks to Augmented Reality, children and adults can project Santa Claus into their physical space and take photos with him wherever they are, enjoying a special and memorable moment. 
We did this in the experience we created for Las Rocas Shopping, where we created a 360° environment that transported users to a typical Christmas village. Additionally, we developed an Augmented Reality Santa Claus for taking photos and recording videos. 
If you have a different experience in mind for your Christmas campaign, we can provide comprehensive service to bring it to life. Just contact us at ads@camonapp.com and we will schedule a meeting as soon as possible.