Mondelez International is committed to generate campaigns using augmented reality for promoting actions. For this Easter they invited consumers to play for great prizes through Milka App.
Mondelez Internacional, the renowned snack company, continues carrying on actions with cutting-edge technologies to integrate offline and online channels of one of their main brands: Milka.
Using Milka App, the platform developed by CamOnApp, consumers can discover interactive experiences through product´s packaging and also around their environment using mobile geolocation.
How does it work?
By downloading the free app from Google Play or Apple Store, you access to the platform that has three main functionalities: Scanner, Milka Products and Map.
The scanner works in the same way that a photo is taken, framing the surface of any product of the brand, you can discover interactive content around you. Therefore, the packaging turns into something more than a simple wrapper, becoming a new space for communication and innovative interaction with their consumers.
On the other hand, the Product section shows nutritional information and details about each of the Milka´s chocolates. This is a useful way to communicate the ingredients of their snacks and also to make data available digitally for their consumers.
A new addition is the Map feature, where users can visualize their current location and markers with experiences around them. When they are clicked on, interactive contents are displayed to play and have fun.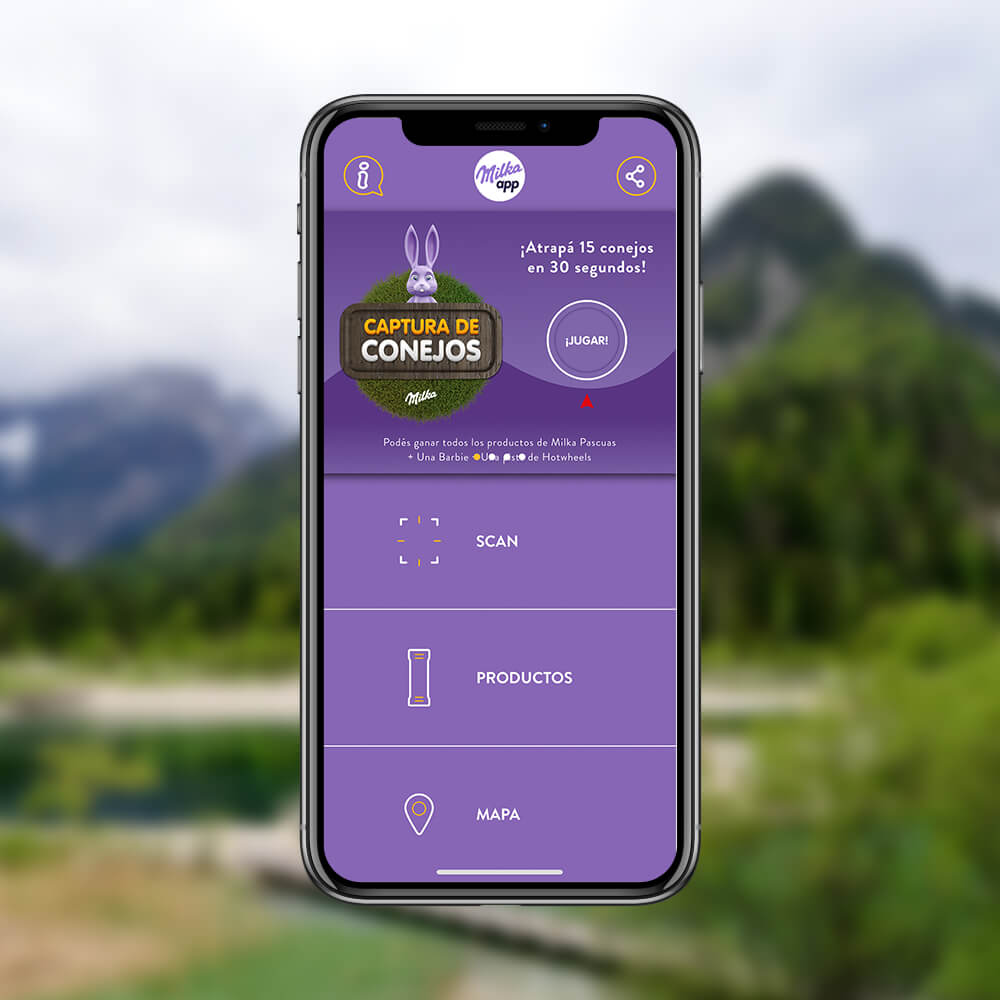 Campaigns with Augmented Reality
For a chocolate company there isn't a date more interesting than Easter. In this context, the creation of a custom campaign was needed to continue developing the engagement of the platform.
"Capture the rabbits", is the game of Milka App that challenge the user to catch 15 rabbits in 30 seconds to participate for products of the brand and great prizes. This initiative was launched in Argentina and it was communicated by social media profiles.
Through this action, Mondelez International invited us to live a sweet and fun Easter by adding to the classic chocolate eggs, ludic experiences of augmented reality that encourage engagement with its users.
Previously, Milka launched a campaign where chocolate fans were dare to seek brand experiences hidden in the city, as Pokemon Go does.
CamOnApp is the company behind these technological solutions. With a team of experts in design, animation and immersive technologies, we generate the experiences that helps to boost communication and sales campaigns.
Mirá el video de la experiencia «Captura de conejos»