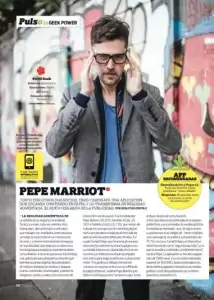 Along with two other partners, Pepe Marriot CamOn created an application that scans paper content and transforms it into augmented reality.
Augmented reality is the star of Internet business. From here one year, we will see increasingly more video games, documentaries and news programs that work with augmented reality to immerse the viewer in a new point of view. The same is doing the advertising business, starting to use this technology to extend the consumer experience. This is what you are looking CamOn, an application for mobile devices that lets you scan pages printed advertising or news magazines and shoot new related content: photo galleries, audio and video and other resources for user interaction. It was founded by Pepe Marriot (38, CCO), Damian Alcala (35, CEO) and Federico Zaiatz (31, CTO), who came to work in a digital marketing agency until they decided to explore the applications market mobile advertising. Thus arose CampOnApp, which works very simply: allows you to scan the page with interactive content (alerting the reader notice and an icon) and then receive it on your mobile device. "A graphic lacked innovation, connect online with offline resources of the printed page," says Pepe Marriot, CamOn defines as "the third layer" between the two communication channels.
While for now is focused on the advertising business and graphic content media, which augmented reality, at some point, its predecessor is the code QR- has multiple uses: packaging, outdoor and TV screens. "In that case, CampOnApp and mobile function as" second screen" in which you access additional content", Pepe says. The application has already been downloaded more than 7,000 times and scans performed over 100,000. They published more than five hundred leading interactive pages in print media and is available for Android and iOS operating systems.
GEEK PROFILE
Notebook: Macbook Pro
Smartphone: iPhone
ISP: Arnet
Compañía celular: Personal
Airline: indistinct
APP RELATED
SketchBook Pro and Paper 53: graphic sketch ideas allow "freehand"
Mugician: You can create songs, as a synthesizer
You can check the note here:https://www.conexionbrando.com/1826697-realidad-aumentada-la-nueva-nina-mimada-de-la-publicidad