By incorporating technologies like Augmented Reality in the Food and Beverage industry, brands have new tools to generate engagement with consumers and boost sales. These innovative experiences inspire customers to see, try and learn about a product using only their mobile phone.
Explore these 5 AR case studies from the Food and Beverage Industry
Product Launch
With Augmented Reality products come to life and build a storytelling for a campaign that is attractive as well as interactive for the user.
Bodegas Bianchi presented its first harvest of 'IV Generación' wine incorporating Augmented Reality by scanning the bottle's label. This experience allows consumers to know much more about the grape's origins, the soil studies that have been carried out on the terroir, the oenological team, the members of the fourth generation and everything about the characteristics of climate, soil, irrigation, and more.
Packaging and POP material with AR
Packaging plays a key role in POS and a great competitive advantage would be to expand its communication through Augmented Reality. Consumers can scan the product and obtain additional information about its usage that doesn't fit on the label. Another tactic is to introduce AR into POP material to create attention-grabbing advertising.
Mazola Mayonnaise carried out a 360 ° experience presenting a typical kitchen context when the product packaging is scanned. There, consumers find different ideas to prepare recipes by following step-by-step instructions. In addition, the final result of the dish can be visualized in 3D, as if it were prepared and waiting on the table.
Key brand messages
These solutions can also be used to communicate institutional brand campaigns and generate content that adds value to the customer.
Nespresso developed a communication element that aims to disseminate its global sustainability platform and consolidate knowledge about its local Recycling program. Through a 360 ° interactive experience you can learn about the sustainable practices that make it possible to obtain exceptional coffee and also shares information about their capsule recycling program. In a dynamic experience, they explain that the used coffee capsule is donated to the NGO Huerta Niño and that the aluminum is then melted to make new objects such as Caran D'Ache notebooks and pens. Furthermore, you can view the limited edition of these products with AR and participate in a trivia game to learn more about the program.
Virtual shops
Another proposal is to create customized scenarios with the company's branding or with themes related to the product catalog. This lets the consumer enter a virtual space that encourages their purchase decision.
To show the Catena Zapata wine catalog, a 360 ° experience was created where the different bottles were exhibited. The user could click on each of the wines to learn more details about the product's origin and see information about each one. In addition, there is a button that directs the consumer to the eCommerce platform.
Interactive Digital Menus
Bars and restaurants can also benefit from these solutions. Instead of offering a traditional printed menu, they can place QR codes on tables and store windows to offer the customer a new experience when choosing their dish and drink.
For the restaurant Niño Gordo, a virtual-portal of the main room of the store was developed. There you come across a table and featured menu items in 3D and have a hyper-realistic version of the dishes before ordering.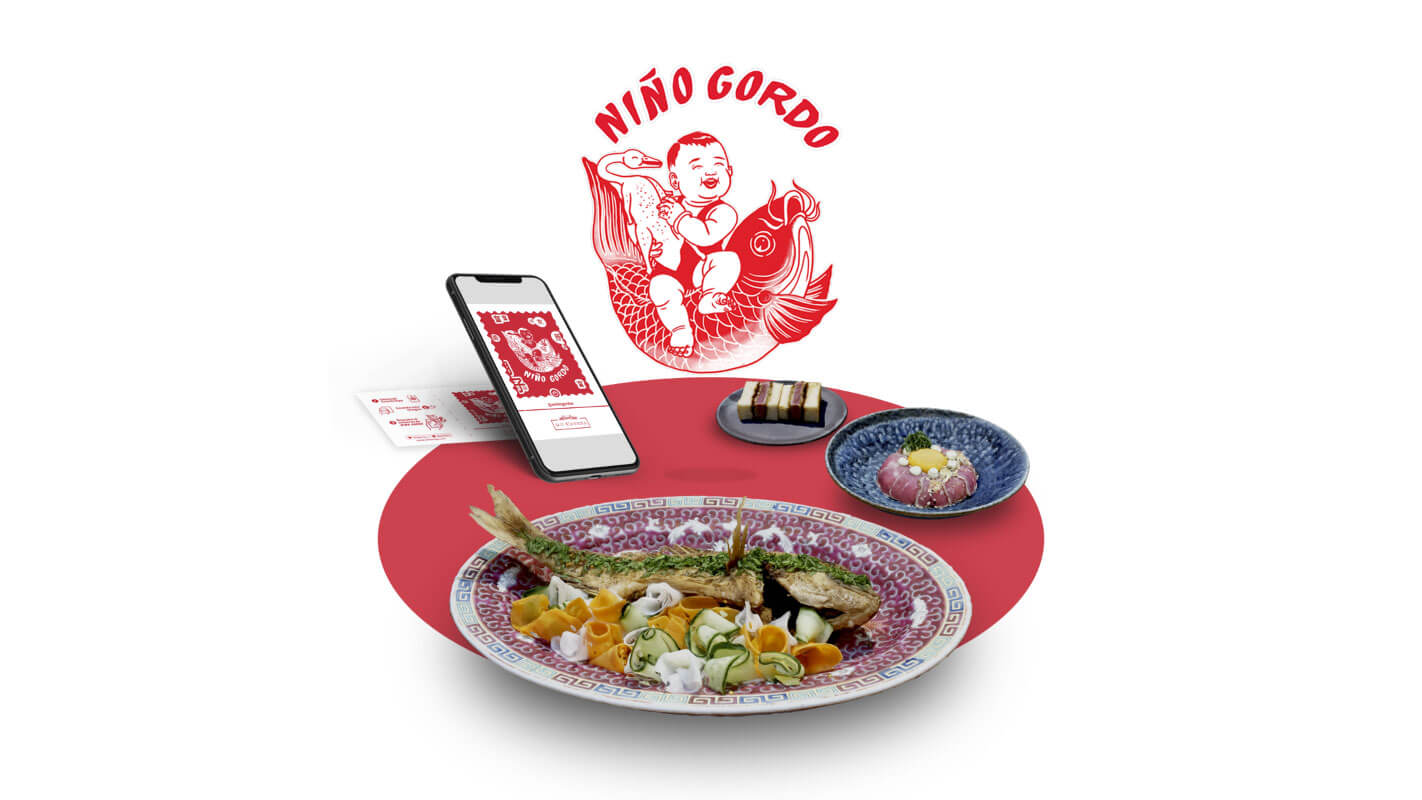 These are some ideas for implementing Augmented Reality in the Food and Beverage Industry. However, the possibilities for creating immersive content for marketing campaigns are endless. If you are interested in learning more about how to incorporate these solutions into your strategy, contact us at ads@camonapp.com