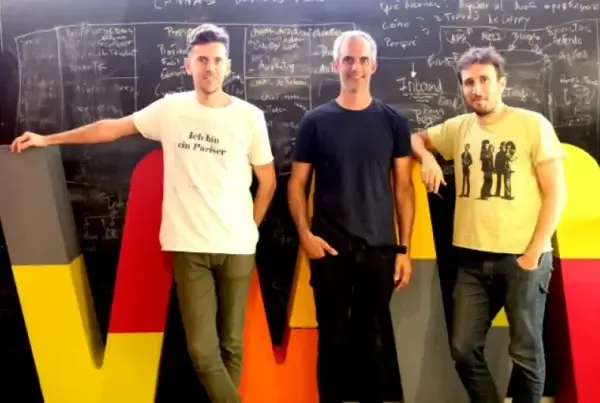 This week we had the opportunity to exchange ideas with Damian Alcala, CamOn current CEO, founded in 2015 company with Pepe Marriot (CCO) and Federico Zaiatz (CTO). CamOn lets you link the offline world with the online world through augmented reality and Damian tells us how it works and how it all began.
What is this project about?
CamOn is an augmented reality platform that allows you to view and create interactive experiences on images and objects. Through this app users can scan the packaging or product labels, newspapers, magazines, posters, books and works of art to discover digital content like videos, image galleries, animations, games, links to social networking sites among others. The app is free and available for iOS and Android.
In turn, the team developed a CamOn Content Editor allows you to create interactive experiences with augmented reality on images and objects very easily without any programming skills. Through this media, advertisers and agencies web tool can also access a reporting system to measure the performance of campaigns. The data that can be displayed are: amount of scans, user profile, number of interactions and average time on other data. The tool can generate and update content in a very short time.
Damian says they are currently working with agencies, print media and advertisers the local and regional market.
How did they get the idea?
The idea arose in 2014. Along with Pepe Marriot had a boutique digital agency and were offering services and augmented reality campaigns but on the web. We began to see an opportunity in the market, all existing solutions that generate frustration saw users were expensive and took months to develop for customers. In the segment of print media such as newspapers and magazines we saw there was a chance to start implementing our product. From that point we decided to start developing a prototype and think about a business model escalable. A time we had a prototype and a clear vision of the business model we add Frederico as CTO to develop a version of CamOn more powerful, functionalities, services and likely to be marketed in different market segments.
Things I wish I'd known before embarking
Every project or undertaking ends demanded more time than initially estimated. Generally we tend to underestimate times of development of technology products and making decisions on commercial proposal by a client. Decisions often depend on third parties such as suppliers or customers that directly impact our planning. Even the same entrepreneurial team making decisions that change the course of the road map and consequently the results are given in a higher than desired or estimated.
3 tools that help your business and every entrepreneur should know
I will summarize a tool and not a site, app or technology solution. I consider it essential to interact with other entrepreneurs and learn from their experiences. To know real cases of entrepreneurs who are in early stages or already consolidated their business allows you to understand that there is only one way of doing things, often the solution may be just the opposite of what you thought and just that is achieved expanding the range of possibilities from the knowledge of other cases.
Your motivational phrase – moto / favorite of a famous phrase that inspires you
A theme abstract Breath of Pink Floyd. While the letter does not refer to startups i identify with the idea that the world of the enterprises do not prune relax, there are always new challenges in a super competitive market.
Run, rabbit run.
dig that hole, forget the sun,
and when at last the work is done
don't sit down it's time to dig another one.
Review the note on this link: https://medialoconsulting.com/camonapp-el-nexo-entre-el-mundo-offline-y-online-a-traves-de-realidad-aumentada/